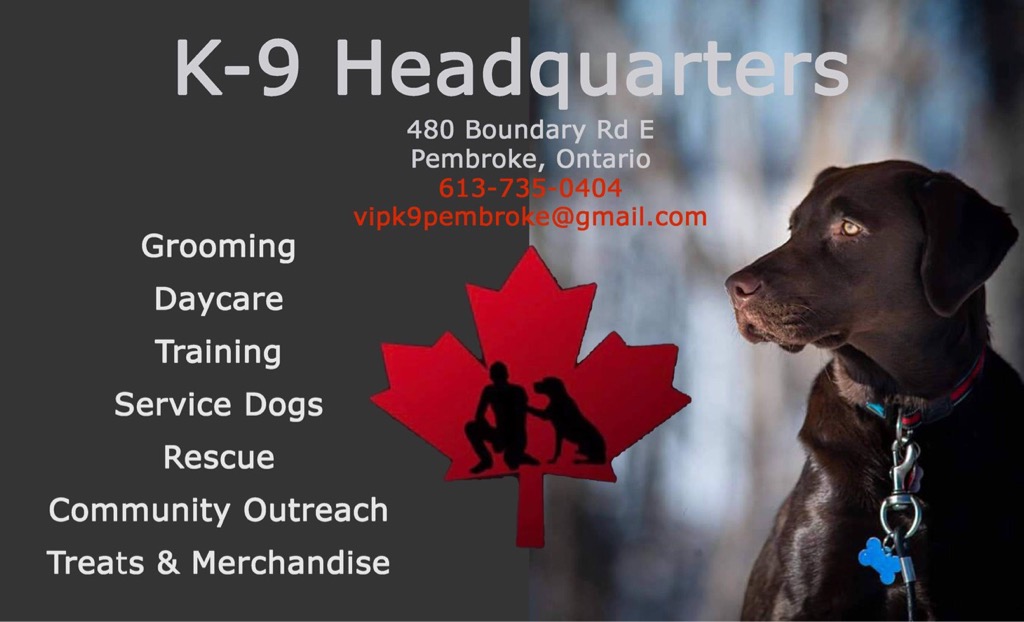 Welcome to K-9 Headquarters.
K-9 Headquarters is a one stop dog shop located in the heart of the Ottawa Valley, offering dog daycare, grooming, training and merchandise such as Canadian-made treats.  It is owned and operated by Fire Team K-9's Inc., a non-profit corporation that is dedicated to sourcing, training, and matching service dogs to veterans, firefighters and police officers.  Our name pays homage to the smallest unit in the Canadian Forces.  The Fire Team is two soldiers working together to achieve an objective.  For soldiers back home, a service dog is like having a trusted Fire Team partner.  We have witnessed firsthand the incredible impact that service dogs have in the lives of veterans with PTSD and other conditions.  Service dogs change lives "…because when coming home is a fight, you're not issued a fire team partner."
Fire Team K-9's covers the cost of veterinary bills, food, training, equipment, grooming, and all incidentals for program dogs.  To assist with these enormous costs, we rely on fundraising and donations.  All profits from K-9 Headquarters also go into our service dog.  Countless volunteer hours make this teamwork possible.
Community Education and Outreach 
Part of our mission is to provide education, awareness, training, and employment in the service dog industry.  Through our services, training, workshops, and group activities we hope to demonstrate the wonderful impact of K9 companions.  As well, K-9 Headquarters employs a small but dedicated staff and many volunteers.  Fire Team K-9s offers a student trainer program which allows students to participate in dog training classes and work with service dogs.  These hours qualify for the community hours required to graduate secondary school.  It is an excellent opportunity to provide awareness on service dogs, disabilities, and the value of volunteering to the younger community.  Secondary school co-op students also work at K-9 Headquarters in the doggy daycare.  This school credit program allows students to receive an education in dog behaviour, training, and general business knowledge. 
Consultation
A training alternative to group classes