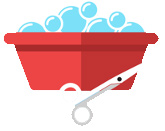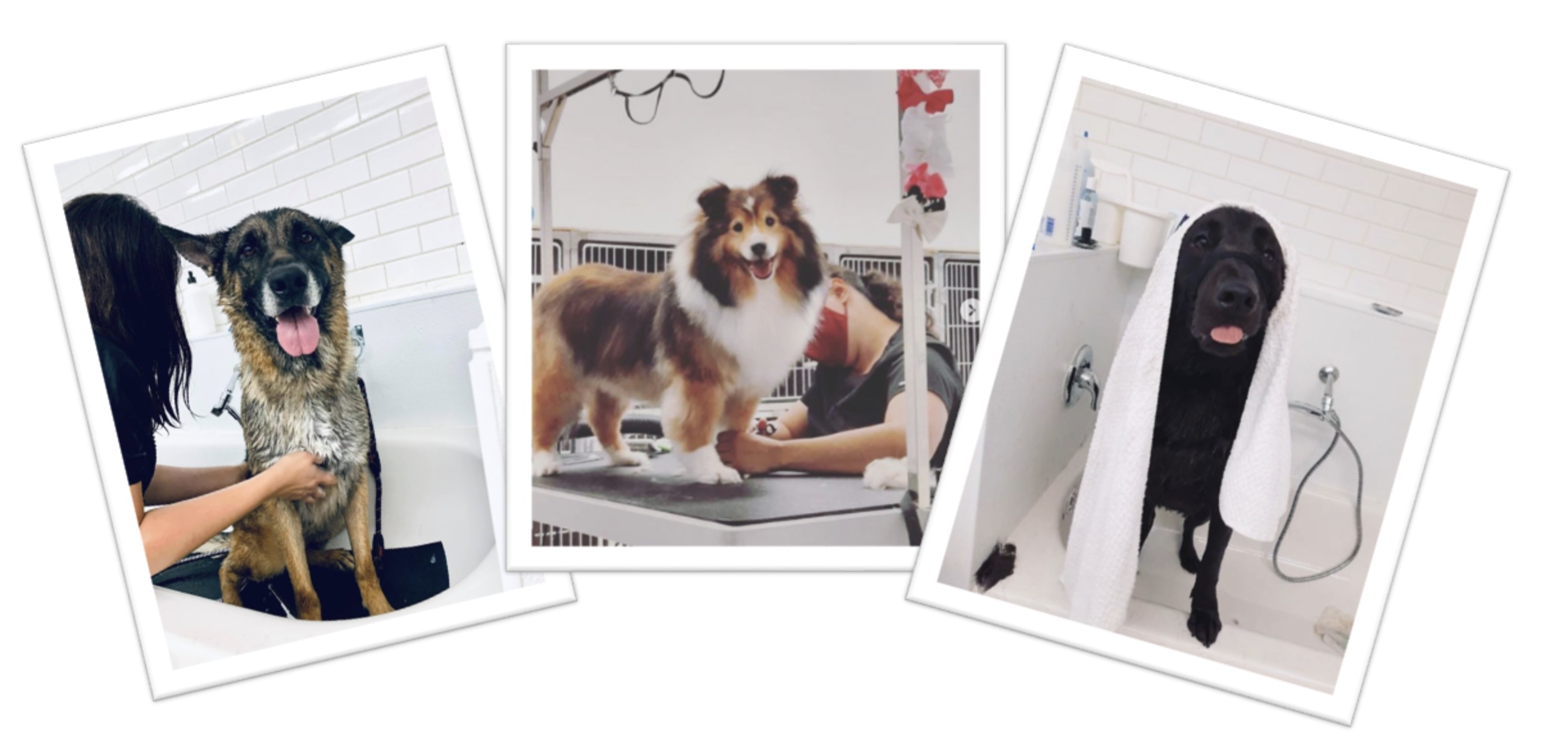 that lower to the floo,, and .  activitiesindividual Our Grooming Salon is an extension of our core mission to support partnership between you and your dog.  With our knowledge and expertise just a phone call away, we can help you keep your pup clean, comfortable, and looking great. Our staff works with you to understand your individual dog's skin and coat needs, your lifestyle and your maintenance preferences. We are always happy to answer your questions and to determine an ideal schedule for achieving your grooming goals for your dog.
We have two groomers, each with 12+ years of experience and support staff. We are proud to offer grooming for dogs of every shape and size from the tiniest teacups to the massive mastiffs. Our salon is equipped with multiple tubs and tables, including low options for dogs with sore joints or disabilities. We also have several types of dryers available and an extensive collection of shampoos and conditioners for many coat types including, but not limited to, hypoallergenic, oatmeal for dry skin, whitening shampoo, colour pigment enhancement shampoos, medicated, de-shedding shampoo and conditioner, etc. A combination may be used to achieve the best results.
Grooming Salon appointments are available Monday through Saturday 8:30 – 6:00 PM and can also be added to any Daycare stay.
For grooming, core vaccinations are encouraged but the rabies vaccination is required as per Ontario law.  Proof of vaccination will be required upon your first appointment with us.
FEAR FREE CERTIFIED
Sometimes we see dogs that are fearful of strangers or grooming activities.  Perhaps they had a bad experience in the past, or maybe they don't have a lot of experience in the salon.  Do you have a dog that tries to bite the nail clippers?  Or does your dog howl in the bathtub?  Many animals don't necessarily enjoy having their feet handled, getting a haircut, or taking a bath but there are a lot that groomers can do to make those things more comfortable (and even fun!) for them.
Our salon was built from the start using Fear Free Grooming principles. From extra spacing between grooming tables, to tubs that allow dogs to enter on their own, to tables that lower to floor level, outdoor window views and so much more to make your dog more comfortable.
Fear Free Grooming practices also set your puppy on the right path to enjoy a lifetime of grooming and veterinary care visits. 
Fear Free Certified Groomers combine principles of Cooperative Care and Positive Reinforcement Training to gradually and consistently help your dog experience more fear free grooming appointments. Fear Free visits are customized for your dog's individual needs. Whether it is your dog's very first visit to the salon or they have already developed a fear, we can help them. All this translates into decreased stress on you and the animals!
GROOMING RATES

WASH & GO 
Shampoo, condition, face scrub, blow dry, brush, nail trim and ear cleaning
X Small 11 lbs or less $35
Small 11-20 lbs $45
Medium 21 – 40 lbs $55
Grande 41 – 60 lbs $65
Large 61-90 lbs $75
X Large 91- 120 lbs lbs + $85
XX Large 121 lbs+ $95
FULL GROOM 
Shampoo, condition, face scrub, massage, de-shed, cut & style with full body haircut or shave, paw and sanitary trim, blow dry, brush, nail trim and ear cleaning
X Small 11 lbs or less $60
Small 11-20 lbs $75
Medium 21 – 40 lbs $80
Grande 41 – 60 lbs $90
Large 61-90 lbs $115
X Large 91- 120 lbs lbs + $125
XX Large 121 lbs+ $140
INDIVIDUAL SERVICES
Nail Trim/Grind $15
Brush Out (30 minutes) $30
De-shed Add On $30
Creative Groom $30
Matted/Shave Down $30
Extra Care Fee $20
No Show Fee $25
Emergency Appointment $40
Size Guide
X Small – Chihuahua, Pug, Papillon, Westie
Small – Shih-Tzu, Maltese, Toy Poodle, Mini0Schnauzer, Bichon Frise, Jack Russell Terrier, Cairn Terrier, Cavalier
Medium – Cocker Spaniel, Sheltie, Mini Doodle, Boston Terrier, Coon Hound
Grande – Australian Shepherd, Basset Hound, Setter, Border Collie
Large – Standard Poodle, Husky, Labrador, Belgian Malinois, American Staffordshire, Terrier, Weimaraner
X Large – Large Doodle, Bernese Mountain Dog, Newfoundland, Rottweiler, Large Shepard
XX Large – Bernese Mountain Dog, Shiloh Shepherd, Great Dane, Great Pyrenese, Saint Bernard, Mastif
Prices Subject to Change
Pricing is dependant on weight, coat type and condition etc. Quotes given via phone or email are estimates. A final quote can be given by the groomer after reviewing your dog's condition.

Extra Care Fee
An additional fee of $20 may be applied if an additional groomer/handler is required to assist in grooming your dog for safety reasons when the dog is not compliant or difficult.

Late Fee Policy
If more that 15 minutes late for your appointment, a $25 fee will be charged (or half a day at day care for more than 30 mins)

Cancellation Policy
Grooming is in high demand and we want to service everyone as soon as possible. 24-hour notice is required for grooming appointment cancelations. Without sufficient notice for a cancelation or failure to show up for a scheduled appointment a $25 no show fee will be administered.