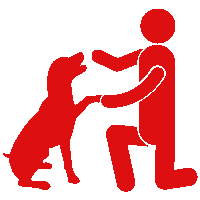 Courses are 6 weeks long, 1 hour per week. Proof of vaccinations and signed waivers are required. If you have any behavioural concerns, we request a private consult prior to joining group classes. Upon completion, teams are presented with a certificate at graduation.
Remember to bring your dog's favourite treats for training or you can purchase new favourites at reception. We recommend a treat that's small in size, low in calories, and big in taste for the best results.
Most importantly, have fun!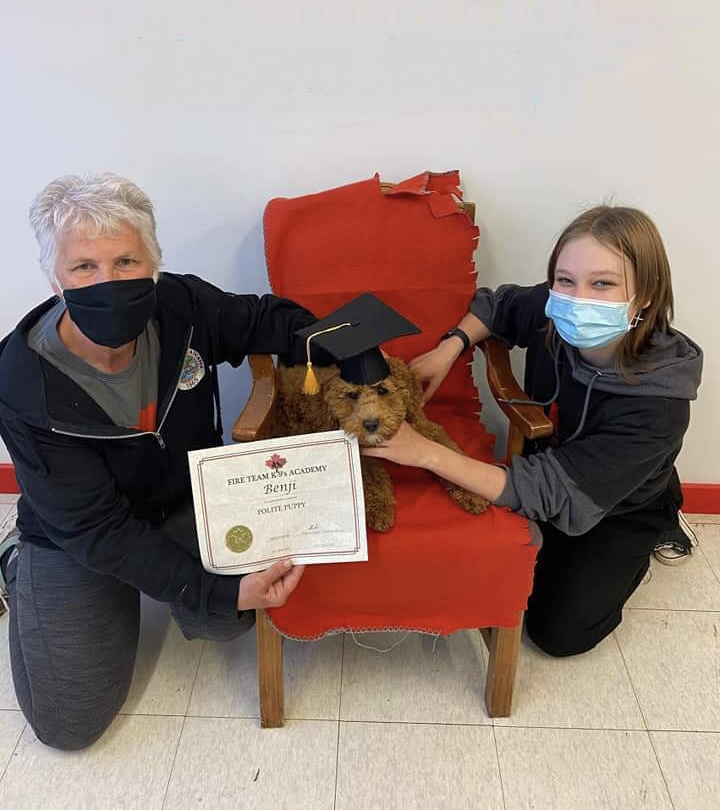 Polite Puppy

A new puppy can feel overwhelming.  Feeling like a new parent?  Congratulations, you are!
Your next step is to begin positive and engaging techniques to get puppy into his new home and routine.  Basic commands such as go pee, sit, down, come, and let's go are a few to get you started.  We teach your young pup manners while using fun and playful tactics.  Some fun activities like puppy play and socialization go a long way – while your fur baby is learning to play and be polite, we get to watch the fun unravel with toys, obstacles, our bubble machine, and more!
Your puppy will receive his or her First Progress Report at the end of the course and a certificate will be presented at their Graduation Class.  Yes sir, this is a very important time and our pups come dressed for the occasion!
This course runs 1 hour per week for six weeks.  We will focus on engagement, positive training methods, and coping strategies to help you and your pup be successful.
$150.00 plus hst
Junior K9

If you are challenged with a Tween – you need a partner!
This course covers the basics in socializing your teen pup while engaging with other pups and being part of a pack.
Recommended age between 5 and 7 months.  The Puppy Tweens!
It runs over a six week time period, and we meet once a week. You will continue to work on new skills at home to reinforce class learning. At the end of your six weeks with us, your "Puppy Tween" will be presented with a Certificate along with a Report Card to proudly display.
Puppies will socialize in a safe and guided environment learning appropriate greeting and play behaviour. A variety of toys, objects and obstacles are introduced in class to help build confidence and guide pups through new experiences.
Along with basic manners, we will be exploring pack walks, leash training, meeting new dogs, how to politely walk past other pups, being approached by strangers, structured play, building confidence not only in your pup but the handler as well.
Looking forward to seeing both yourselves and your pup!
$150.00+HST for this 6 week course.
Basic Obedience
This course is for dogs 8 months and older. The Basic Obedience course teaches all the fundamental commands such as sit, down, and stand while focusing on heel work and recall. This course is a great way to build teamwork with your K-9 partner in a fun and engaging environment.
$150.00 plus hst
K9 Confidence
Prerequisite: Basic Obedience
The K9 Confidence Course is an advanced level course.  It teaches manners in public such as greeting other dogs and friendly strangers. This course builds confidence between you and your canine partner based on a foundation of trust.
$150.00 plus hst
Scent Detection Level 1 Introduction to Scent Detection
The sport that spawned from specialty canine units that detect bombs and illegal substances. This course is open to all dogs, is fun, challenging and builds teamwork. During this course your dog will be imprinted with the wintergreen scent and you will learn the strategies to box searching.
$150.00 plus hst
Scent Detection Practice
Prerequisite: Level 1 Scent Detection imprinted wintergreen or owner provided scent
$20.00 plus hst  per 1 hour session
Loose Leash Walking
Walking as a team can be an enjoyable exercise for you and your canine.  Learn to walk your dog with a loose leash and positive reinforcement in this 4 week course.
The following items are required:
flat collar
standard 6' leash, clip or martingale
lots of your dog's favourite treats!
A treat pouch is encouraged.  Treats and treat pouches can be purchased at the facility.  Please note – harnesses and retractable leashes are not allowed for the course.
$150 plus hst