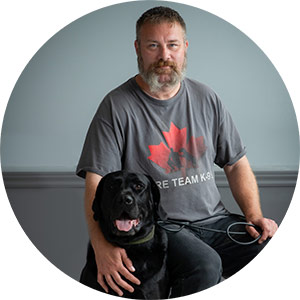 Jeff Hinch
President
After serving more than 20 years with the Canadian Army, that included 5 tours of duty I finally had to come to terms with physical and mental injuries. By being introduced to service dogs through training, I discovered what I was meant to do. With the support of my wife Jen and two sons, I became a certified Dog Trainer and Instructor. We established Fire team K-9's to help veterans and first responders. I am very proud of our dogs and the impact they have had. To provide dogs to more veterans, Fire Team K-9's Inc. opened K-9 Headquarters in 2020. K-9 Headquarters offers Dog Training, grooming and doggy daycare. All proceeds from K-9 Headquarters go into the service dogs and our dog rescue, Monty's Mutts. We have a dedicated staff, team of trainers and volunteers that work endlessly to help fulfill the mission. As well as training service dogs, I instruct courses in scent detection, tracking, all levels of obedience, and specialize in behavior modification. Our trainers work with the rescue Monty's Mutts which is a division of Fire Team k-9's Inc. We aid fosters and adopters to help rehabilitate the dogs adjust and move to their forever home.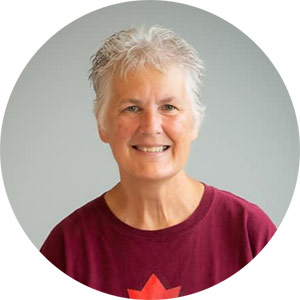 Debbie Hobbs
Vice President, Fire Team K-9s
As a valley girl who grew up on a small hobby farm, my chores started at a young age with the responsibility of feeding and caring for our ponies, calves and of course pups.
I first met Nancy and Jeff in August of 2019 when I applied to be a foster handler with Fire Team K-9's. My adventure began when I started working with my first foster dog Annie. She changed my life forever. Moving forward, I was mentored under Nancy and Jeff to first become a dog handler, then a trainer coach and finally a training instructor.
Another role I play is "Student Pack Leader". I am responsible for student volunteers who are working towards their community hours, guiding and expanding their knowledge in our doggy world.  This program has been very successful in achieving some very proud moments as I see my students become extremely confident dog handlers and even continuing past the completion of their student handler hours to becoming training coaches.
Doggy Daycare Supervisor is one of my many hats I wear proudly.  In this role I guide and instruct our staff on handling dogs in a large pack, providing tips on proper leash walking, setting up activities within the daycare, providing temperament assessments to new clients before having them enter our daycare program.
I have been with Fire Team K-9's since August 2019.  I have witnessed the initial beginnings of the K-9 Headquarters, I have advanced my knowledge of dog training while continuing to foster and handle Service Dogs.  I continue to work with the service dogs and their human partners.  I instruct the Polite Puppy course and the Jr K9 Confidence course with the training academy.
Pick a favourite, impossible but I must share one lasting impression.  The feeling I had during the last few visits with my stepdad and having Annie by my side gave me the true meaning and purpose in life.  A Fire Team K-9 partner has your back.
Certificates Include:
Dog Handler
Trainer Coach
Training Instructor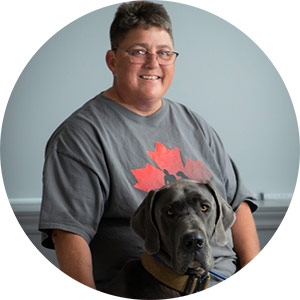 Nancy Berube
In Memoriam
Oct 8th 1969-Sept 22nd 2020
Nancy Berube was a Veteran of the Canadian Forces, a service dog recipient, founding member and Vice President of Fire Team K-9's Inc, and a Dog Trainer Instructor. Nancy understood firsthand the incredible impact a service dog can have. Nancy's own dog, Professor Plum, gave her the independence and drive to help others. She dedicated herself to Fire Team K-9's and it's mission with loyalty, integrity, and determination. Fire Team K-9's is will never forget her work and will honor her memory by continuing to help the community. Nancy Berube will be missed every day.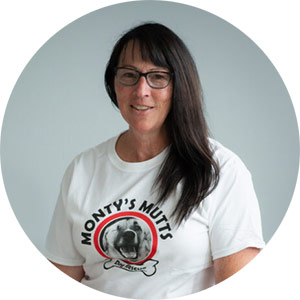 Lisa Cundal
Vice President, Director of Monty's Mutts
Lisa has been helping animals and rescuing dogs her entire adult life, either by taking them in personally or taking them in to find homes for them.
In December 2019 she met Jeff Hinch, President of Fire Team K9's, when she reached out for training with her 3 dogs.  In February 2020, Montys Mutts, the rescue division of K-9 Headquarters, was formed with Lisa as the Director.
The mission is simple, save as many dogs as possible and give them the lives they deserve.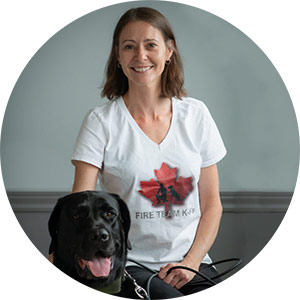 Jen Hinch
Director of Operations
Dogs have always been a part of my life.  Over the years I have received training from several instructors and studied dog behaviour, biology, and training.  My husband Jeff and I established roots in the Ottawa Valley over 20 years ago and have two sons.  As a military family, I understand the importance of taking care of our troops and the challenges, rewards, and pride of a military lifestyle.  Service dogs make a huge impact in the lives of their handlers.  After witnessing the life changing impact a service dog can have, we knew our mission was to help others.  Fire Team K-9's Inc. was established to provide service dogs to veterans and first responders to help them regain independence and purpose.  As Director of Operations, I am your point of contact for applications and inquiries.  I am always happy to help and only a call or a text away.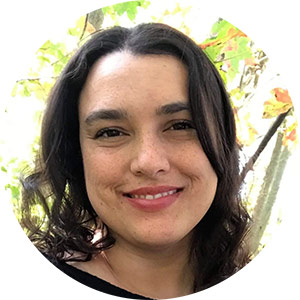 Stephanie Churm
K-9 Headquarters Manager & Grooming Assistant
I joined K-9 Headquarters in August 2020 after moving to Pembroke from Oakville, Ontario. I came with 15 years of experience in the pet industry, from a short stint as a veterinary assistant at a clinic specializing in exotic and zoo animals, to managing a high-end dog grooming salon and boutique. Between those positions, I spent a wonderful decade working in a busy Burlington pet store, caring for a wide variety of pets and animals, from the basic to the more exotic such as hedgehogs and sugar gliders. My specialty was always the reptiles and aquatics and I quickly became the head of those departments, working my way up to becoming the store manager for several years.
As the manager of K-9 Headquarters, I oversee our staff and try to keep our daycare, grooming, and training divisions operating as smoothly as possible. I enjoy attending the annual pet industry trade shows and look forward to growing our facility retail space.
I am also the grooming assistant with 4 years of experience as a bather. I take appointments for nail clipping, baths, and the grooming of most of our large canine clients. I love trying out new products, combinations, and techniques for grooming the largest, fluffiest pups.
When I'm not at the K-9 Headquarters, I enjoy hanging out with my two kids, walking my dogs (a hound cross and a retriever/collie cross), reading, archery, gardening, and helping my husband tend to the hundreds of plants that make up our home-based plant business.
Amelia deRuiter
Daycare Attendant & Trainer
My name is Amelia deRuiter. I began at K9 Headquarter as a co-op student and I am now a full-time employee working in doggy daycare and in training classes. I have always loved working with animals, and have several animals of my own. I am hoping to learn more about training and handling different types of dogs.
I am currently training service dogs which includes fostering the puppies as they move through training. This lets me become more familiar with specific dog breeds and their personalities. It also lets me bring a new puppy home every few months.
I have recently started instructing our Polite Puppy course. While this was a big step for me. I am quickly building my confidence and finding I have more and more answers for my students.
Meredith Scott
Daycare Attendant
Hello, my name is Meredith Scott. I work as a day care attendant at the K9 headquarters. I have found joy working in this line of work. At this job I can teach the dogs new ways to interact in a fun constructive way, all the while working in fun in positive environment with great people. I have always had a passion for animals, I grew up with dogs my whole life. In my personal experience nothing comes close to the bond one has with their own pet. For me growing up it changed my world, it gave me the opportunity to learn how to take care of someone other then myself. I have carried these skills into adulthood, and it has help me blossom as a front-line animal worker. I see each day as an opportunity I always have an open mind when it comes to learning new tricks. I look forward to meeting each new furry face and their owner, working together I think we can create great moments for our happy best friends.
Morgan Mathieu
Daycare Attendant
Hi, my name is Morgan Mathieu and I'm a full-time doggy day care supervisor. I love working with animals which is why I went to St. Lawrence college and studied for my Veterinary Assistant certificate. I have worked at two other dog kennels as a kennel attendant and have volunteered at Sandy Pines Wildlife Center, which I recommend every animal lover do.
I've been with the K-9 Headquarters since November 2020 and have been learning so much since. I have a 4-year-old pug named Percy. She is such a handful so I implement the training tools used at work into my own home.
I love what I do and I believe every animal deserves to be loved and respected.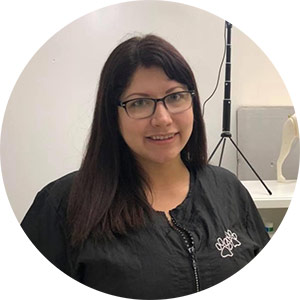 Lori Ore
Groomer
I have been working with dogs for 15+ years and since then, it has been passion of mine to care for their health, beauty and well-being. In 2005, I started a full-time job at Petsmart as a dog bather where I became safety-certified and bathe different breeds of dogs. After 6 months, my salon manager saw how much I loved working with dogs and how much I paid attention to detail so she sent me to grooming school in order to become a dog groomer. At Petsmart's Grooming Academy, I attended classes where I learned basic dog anatomy and had in-salon training where I learned to use grooming tools & how to groom specific breeds & styles. This led to an amazing career in dog grooming and I've had the amazing opportunity of working alongside talented and experienced dog groomers; 7 years in the United States and 8 years in Canada.
I also worked as a dog groomer while attending university full-time in Manitoba, Canada. I graduated with a Fine Arts degree which really inspired my grooming skills. I have an artistic eye to drive myself to be an exceptional and professional dog groomer. Over the years, I have maintained my continued education and interest in dog grooming by traveling to grooming trade shows, seminars and workshops. Now, I am the Head Groomer at K9 Headquarters in Pembroke, Ontario.
My daily duties include:
Bathing and clipping dogs to conform to a variety of breed-specific standard styles or accommodating any special requests from the owner. Detangling and removing matted hair; shaving coat if needed.
Checking for skin conditions and parasites.
Using the appropriate shampoo and conditioner and then drying the coat with a high-velocity dryer.
Trimming nails and cleaning the ears.
Adding finishing touches such as bows/bowties/bandanas.
Informing owners of any health issues discovered during the grooming process.
I take a lot of responsibility and pride to guarantee a professional service and provide a higher level of personal care and attention to each client. I have grasped the patience in handling very difficult and/or nervous dogs with a comforting energy to bring some tranquillity to the overall grooming experience. I am also very careful and take proper safety precautions to minimize the risk of bites and scratches.
Working with dogs has brought me so much happiness. I care for them as if they were my very own and I cherish the time we spend together in the grooming salon; whether it's during a quick nail trim or a full groom. Being a dog groomer puts me at ease and I couldn't ask for a better job. It is the same feeling I get when I create art. Each pet is a canvas to display my artistic passion and develop the connection that I hold so close to my heart.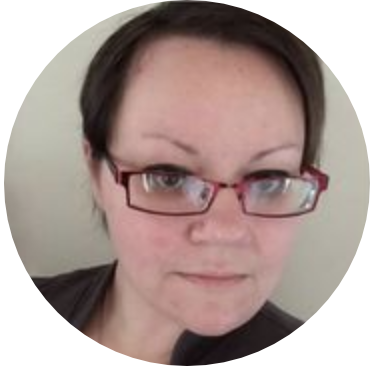 Kat Forder
Groomer
Kat is a Valley Gal from a military family.  As a groomer at K9HQ she brings more than 12 years in the animal care industry.  In addition to be a groom, she is also a foster with several rescues and a Veterinary Technician.  She is Fear-Free certified, a member of the Canadian Professional Pet Stylists and a NAVAC Certified Pet Nutritionist. 
Samantha Couture
Reception
I am a working, married mother of two boys and a dog mom of one. When I'm not working at K9 HQ you can find me doing a number of things in my spare time. Most of which involve two busy boys getting dirty or playing sports.
I grew up in a family of dog sledder's which instilled in me my love for dogs and other animals alike. At 4 years old I was given my "team", which was 7 dogs. Those 7 dogs were mine to train to run the sled and exercise them outside of events. I had my team until I was 10 years old. That sense of responsibility at such a young age set in motion my devotion to animal welfare.
Since then, in my adult years, I've chosen to rescue dogs as much as I possibly could. My most recent rescues being my Staffy Roxy, and her litter mate Angel who unfortunately passed away of a spinal injury last year. My dogs are part of my family, they get all the love they need…plus some! I couldn't imagine a home without a dog. Especially without my Roxy. On occasion, you'll be able to find her with the other dogs in day care!
You can find me at K9HQ at the front desk reception area doing intake which includes getting all of your beloved pups set up for grooming, daycare and training. I hope to grow with K9HQ for the long haul. It's such a gratifying place to be employed. You leave after each day in a great mood, which might be the dopamine from all the dog love we get!
My kids are always so keen to hear about my day which makes me love it even more knowing that one day they can come volunteer and be a part of the K9HQ family! I am so lucky to have a fantastic family life and work life. You'll never get a more welcoming group. K9HQ is the place to be!