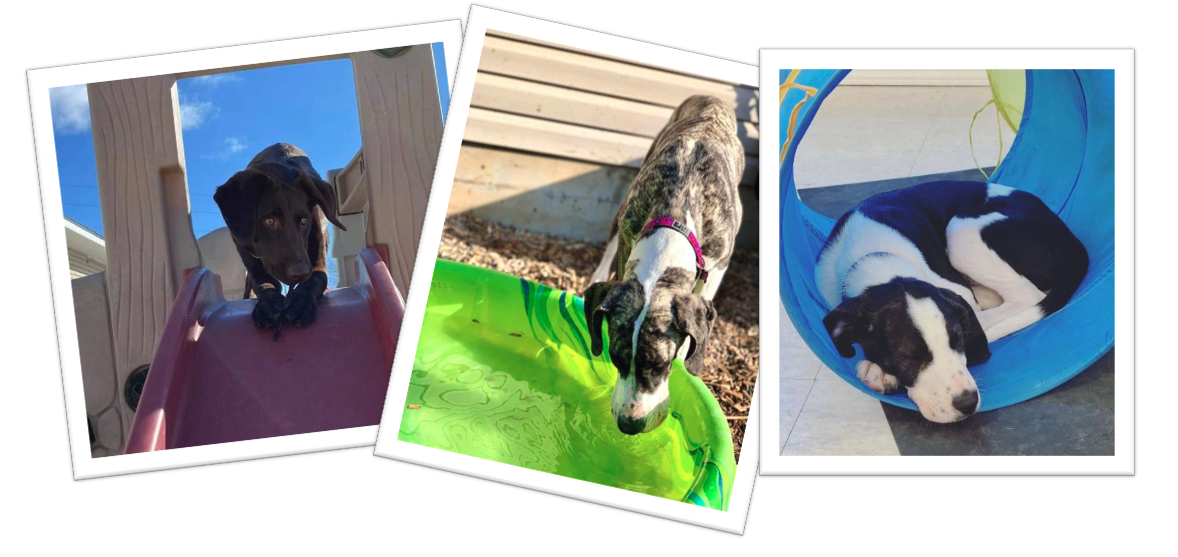 A full day of daycare is much more than tail wags and new sniffs. K-9 HQ daycare is designed to improve your dog's quality of life in a safe, fun, and nurturing environment. We have plenty of indoor and outdoor play space, playground equipment, a splash pool for sunny days, and enough toys to please even the most discerning pup. Our daycare staff engage your dog in agility exercises, confidence building activities, and socializing skills aimed at engaging all of their senses.
When weather permits, the dogs may go for an Adventure Walk, either solo or tandem, within the community. Whether it's exploring the trails or a leisurely stroll downtown, new sights and scents are important for your pup's mental health.
Just like us, dogs need time to rest and recharge. With comfortable beds and blankets, dimmed lights, and soothing music, relaxing among playmates is a satisfying bonding experience for our pups. We encourage everyone to unwind before it's time to head home.
After a long day in daycare, your dog will greet you with enthusiasm, eat his dinner with vigour, and enjoy a very long nap. A mentally and physically stimulated dog is less likely to nuisance bark or engage in destructive behaviours.
Regular Daycare attendance can help your dog:
maintain a healthy weight with regular exercise,
improve confidence, agility, and overall health,
relieve boredom, separation anxiety, and destructive behavior at home,
improve socialization, manners and tolerance of new dogs and people; and
improve their mental health (dogs are social beings, just like us!).
You can rest easy knowing Dog Daycare pups must pass a temperament assessment, be up to date on vaccinations, and must be spayed or neutered once they reach maturity.
Temperament Assessment
All Daycare dogs are required to undergo a temperament assessment prior to their first stay in Daycare. A trainer will meet one and one with you and your dog to learn more about your goals for your pup at K-9 HQ. The assessment takes approximately 45 minutes and gives your pup a chance to tell us if they are comfortable in a daycare setting or what we can do to plan for future stays.
Please bring your dog's vaccination records to the temperament assessment. All dogs in daycare must be up to date on core vaccinations plus rabies and Bordatella (kennel cough).
Puppies must have all vaccinations to attend daycare (usually around 4 months of age) until 8 months of age, at which time a dog must be spayed or neutered to attend
Day Care Price List

Half day (up to 5 hours) $25 + tax
Full day (up to 9 hours) $35 + tax
Extended day (up to 12 hours) $45 +tax
Multiple dog discount for those from the same household 10% off
Loyalty Program – 11th stay is free!
Temperament Assessment $20 + tax
Contact us To Book a Temperament Assessment Today!
613-735-0404 or email vipk9pembroke@gmail.com